10 MENSWEAR TRENDS YOU NEED TO KNOW FOR SPRING
Across the board, stone – that colour that hits between white and sandy beige – was the most popular colour shown by designers for the season. The great news is that it's not only a fantastic colour for a suit (especially one for you'll wear on the weekend), but it's also a sun-friendly alternative to stark white jeans and will warm up all skin types (no need to fake tan those ankles, pale guys).
Outerwear gets technical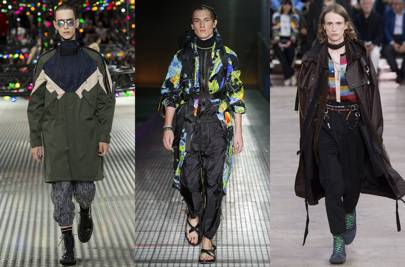 Vary your stripe widths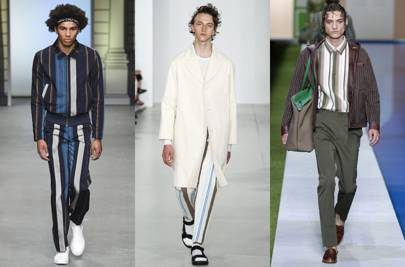 As we watched the shows it almost appeared that patterns were in a state of anarchy this season – however, by the end of Paris Men's Week, vertical stripes emerged victorious. While a menswear classic, the difference this season is that they were seen in varying widths – what we'd be inclined to call "deckchair prints" – and injected with pastel colours clashed with darker ones, as seen at Ami and Fendi.
Get pinked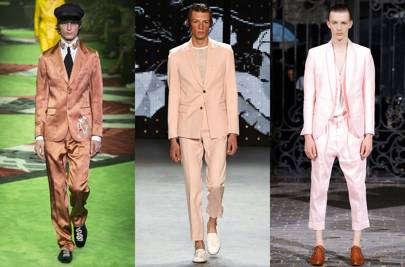 Aclose runner up for colour of the season was pink – in particular the warm, dusty rose seen in a big way at Gucci and Topman Design. The most popular way to wear it was in full summer suit form, but if you're looking for a way to incorporate the trend easily without getting quite so bold, simply add a burst of it by slipping a pink crew neck T-shirt under your tailoring.
Get punked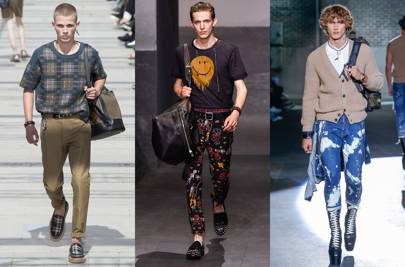 During a rebellious fashion week, British punk emerged as a key inspiration for many designers. Sometimes this was explicit (such as the braces and acid-splashed jeans at DSquared2 or with the zippered trousers at Louis Vuitton), however, often it was far more subtle. While slouchy trousers were clearly the shape of the season, there was a significant majority which were drainpipe slim and cropped above the ankle – not to mention sleeveless jumpers making appearances in most major shows. One thing's for certain next season: sun's out, guns out.
A season of squares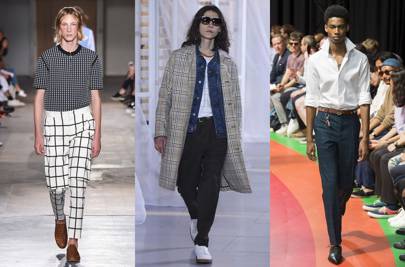 From windowpanes to Prince of Wales checks, squares were all over the shows this season. And while brands like Wooyoungmi went hard on the shape and successfully clashed prints of varying sizes together, other brands like Ami and Paul Smith simply went for a burst on outerwear or tailoring. After the pinstripe revival of the past few seasons, we predict a comeback for the windowpane check suit this time next year. Get on the trend now to avoid the rush.
Knuckle-skimming knitwear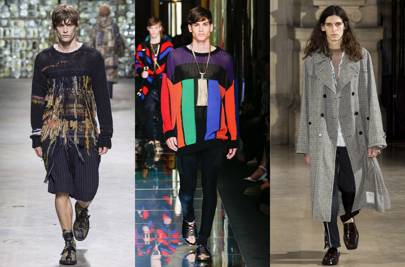 Ring-wearers beware: next season, jumper sleeves are getting longer. From the shaggy sweaters at Louis Vuitton to the hand-hiding knits at Dries Van Noten, the shape of your jumper is looser, slouchier and grungier than ever for summer. If you're shopping, ask yourself WWKCD (what would Kurt Cobain do)?
Purple reigned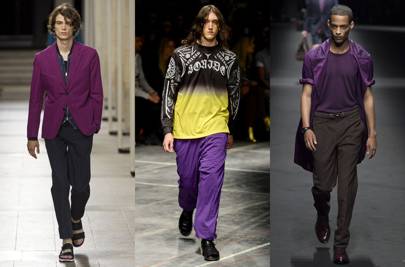 Perhaps it's all to do with the Queen's birthday, perhaps it was all about Prince's untimely death only a few months before, but rich royal purple was another significant colour in a notably muted summer season. It's a bold menswear move, but fortune favours the brave, as they say. Or tip? Wear it with other dark colours to keep it in check.
Plump for piping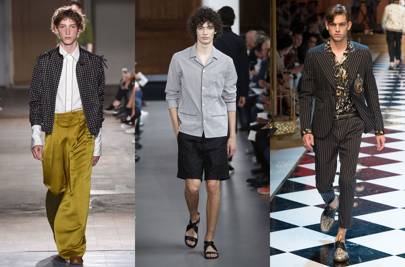 It's amazing how detailing traditionally found on the most casual item in a man's wardrobe, namely a pyjama shirt, can look so superbly smart when worn in broad daylight. This season, contrast piping is the detail you need to look out for, not just on shirts but also on blazers and trousers bringing. Far from making you feel like you want to head to bed, we guarentee it'll make you feel like you're headed out for a couple of cocktails on your yacht on the French Riviera – even if you're confined to an office in overcast Britain.
Stand out in your sunglasses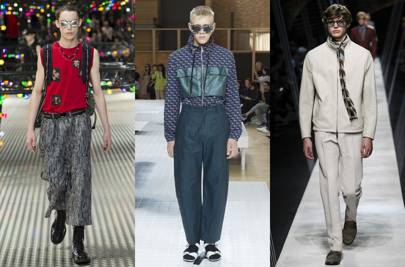 Sunglasses are bigger and bolder than ever for Spring/Summer 17, with patterns, tinted lenses and super-thick frames trending in designer collections across the board. Frames were either strong and angular or perfectly round, with eye-catching patterns or extra details like acetate overlays, seen especially at Kenzo and Versace. Retro shapes have been reinterpreted into more modern styles, with Marni and Fendi showcasing shades with half frames in eye-catching colours. And good news for gentlemen looking to keep things classic; tortoiseshell remains as popular as ever, with excellent iterations shown at Topman Design, Canali and Paul Smith.